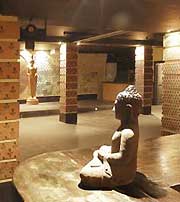 ---
Cafe Teatro: Saturdays at midnight (when the season is on)
Size: small
Dance Floor: the whole venue
Music: commercial house, R&B, pop. Upstairs: lounge, ambience.
Crowd: Downstairs: young, trendy, wanting to be seen. Upstairs: older, calmer, more affluent.
Dress: the bouncers are on guard for flip-flops and vests.
Sociability: buzzing but with a touch of self-concious.
---

Paginas Amarillas
225 Eugenias Vines
Malvarossa Beach
Reserve: 678 860086
website
May - October only.
every day 11pm - 4am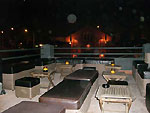 ---

Beach / Port Map
Gandhara is one of the more upmarket spots in the Malvarossa beach area. Trendy, fashionable young crowd turns up in their nice cars to dance to the latest commercial house, R&B and pop. It is a fairly small place with everyone close together, spilling over the dance floor for a banter, and usually fairly energetic. Expect a touch of self-consciousness. Both the guys and the girls will make all the effort to look good. But Gahdara's unique selling point is the chillout area open from midday. The roof terrace with a Buddha theme is an extra 10 euros to get in, and tends to be for a more affluent and mature clientele to take it easy under the summer moon with a lounge and ambience soundtrack and a wide selection of exotic cocktails. See the website to get a feel. Gandhara closes completely from November to April inclusive.