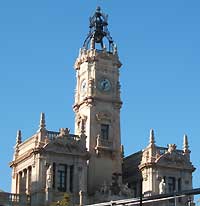 Plaza de Ayuntamento is the centrepoint of Valencia and is fairly impossible to miss. This large square is undoubtedly the most impressive of all Valencian squares, hosting rows of incredible buildings. Arguably the best Valencian architecture of XIX - beginning of XX century. Some of those buildigs are simply stunning, while others are also very curious in their construction.

The Ayuntamento (City Hall) is the seat of the city government and is the dominating structure of the square. It is an absolutely stunning modernist building with traditional Spanish and Valencian elements. The central clock tower is the focal point of all Valencian major events, with public addresses taking place on its balcony. During the opening hours you can also visit some of the interior - the central hall, the Sala de Cristal (luxurious reception hall) and the Historic Museum - a small collection of heavy-weight artefacts from Valencian history.

Also notable is the strange hybrid of the central Post Office, just opposite the Ayuntamento on the other side of the plaza.

History: this seat of government is very new. Up until 1934 the city council presided in a (now non-existent) building on Plaza de la Virgin. Today's Ayuntamento was built in the beginning of the XX century, incorporating a several centuries old Casa de la Ensenanca (a Catholic college) - a baroque structure whose part you can still see at the back of the modern Ayuntamento.
SERVICES
None. Don't be intimidated by the sight of the armed security at the entrance to the City Hall. It is perfectly ok for the tourists to come inside during the opening hours, although you will have to go through a metal detector.

Paginas Amarillas
Pz Ayuntamento
Centro
City Hall hours:
Mon - Fri
10 am - 13.30 pm
closed Sat, Sun, last Fri of the month.

City Hall: free entry
Languages
Signs / Content:
n / a
Brochures:
n / a
Guides:
n / a

Map of Central Sights
Map of Central Walks